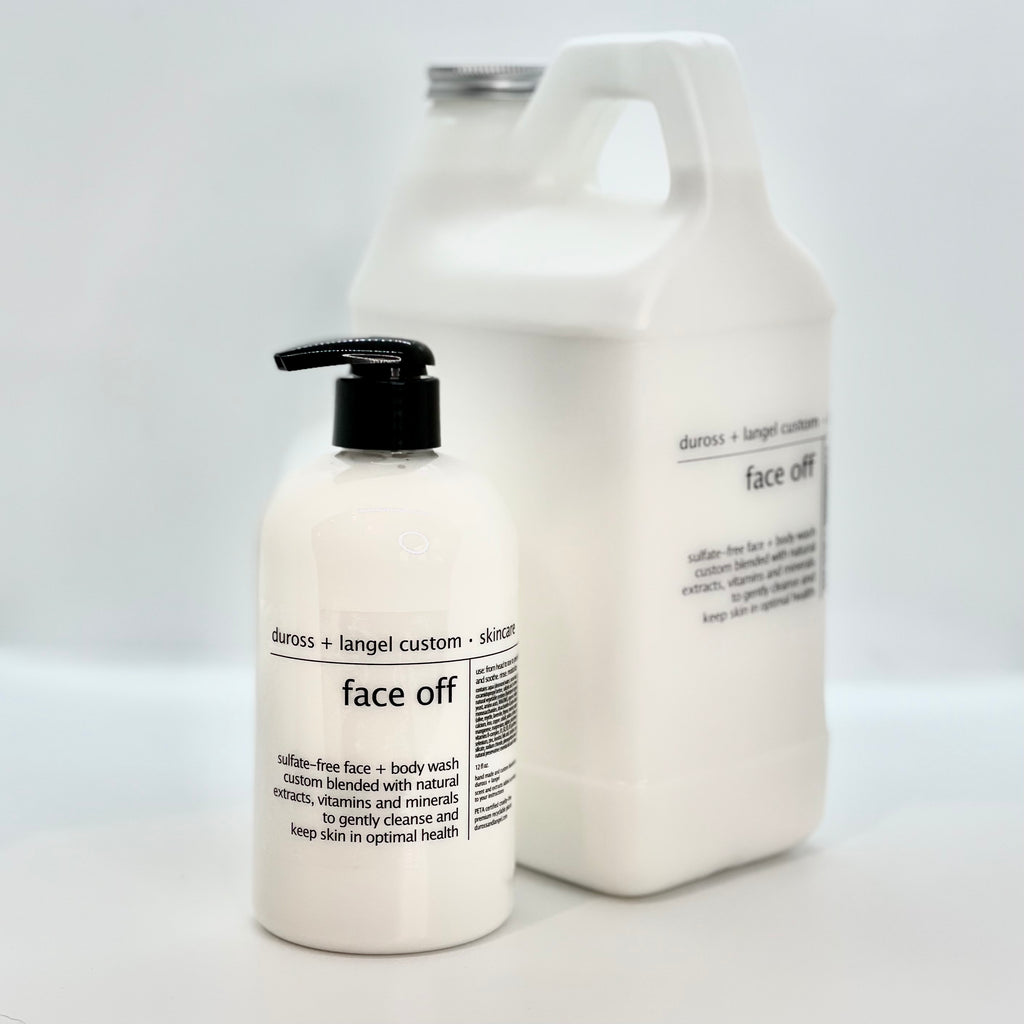 duross & langel
custom face off - daily face wash
our popular sulfate-free face + body wash for all skin types is universal in it's ability to gently cleanse with 8 essential oils, 13 minerals and 11 vitamins to promote healthy glowing skin.
aromatherapy options listed on the dropdown list mixes well with either essential oils and phthalate-free fragrance oils. now with the option to add hyaluronic acid and/or retinol to your formula as well as natural botanical extract at no extra charge. each 12 oz  shampoo comes in a flat bottom PET plastic bottle with snap cap and our jumbo eco-friendly 64 ounce returnable jug to refill your existing bottles

*can usually fulfill custom orders within an hour. check for shop hours below
not sure about extracts + fragrance?  click here to view our aroma + ingredient primer for details and descriptions about scent oil blends.
use: shake, squeeze a small amount (to keep the formula 98% natural, we committed any chemical thickeners) into your hands or wash cloth. gently scrub. rinse thoroughly. moisturize.
contains: aqua (deionized water), coconut oil, cocamide DEA cocamidopropyl betine, salicylic acid, tea tree oil, CEASE complex, hydrolyzed proteins of soy, papaya, yeast, amino acids and RNA/DNA, argan oil, oils of olive, myrtle, lavender, thyme, rosemary, apricot and clove, minerals calcium, iron, copper, cobalt, sodium, iodine, potassium chloride, manganese, magnesium, sulphur, phosphorus and phosphate, vitamin B1, B2, B3, B5 (panthenol), B6, B12, A, C, D, E, and H, selenium, zinc, inositol, folic acid, camphor, magnesium aluminum silicate, sodium chloride and food grade preservative
*all custom sales are final