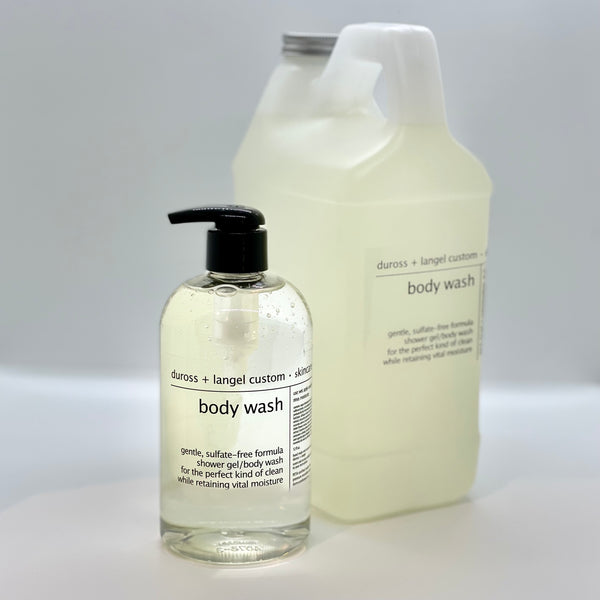 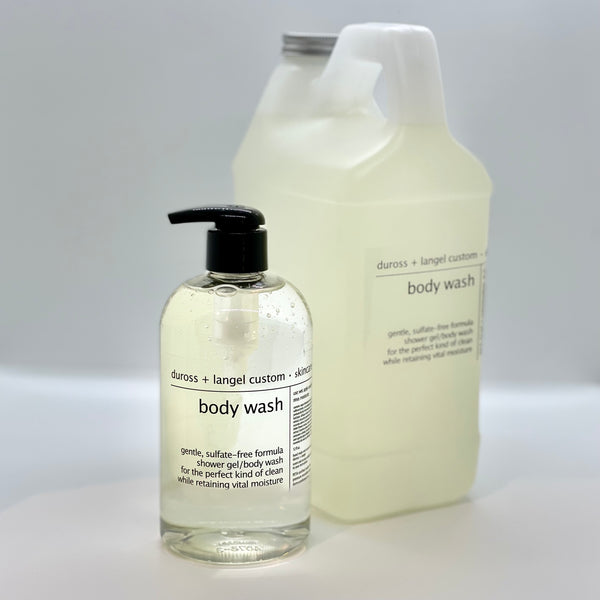 duross & langel
custom shower gel/body wash
£18.00
our natural, sulfate-free body wash formula has the perfect PH for the most sensitive skin types. to the base we've already added soothing extracts of cucumber, elder flower and arnica to enrich the formula and leave your skin feeling smooth, supple and hydrated. phthalate-free, sulfate-free and paraben-free formula.
aromatherapy options listed on the dropdown list mixes well with either essential oils and phthalate-free fragrance oils. now with the option to add hyaluronic acid and/or retinol to your formula as well as natural botanical extract at no extra charge. each 12 oz  shampoo comes in a flat bottom PET plastic bottle with dispensing snap cap.  choosing an eco-friendly 64 ounce refill size helps to cut down on waste.
*can usually fulfill custom orders within an hour. check for shop hours below
not sure about extracts + fragrance?  click here to view our aroma + ingredient primer for details and descriptions about scent oil blends.
ingredients: aqua (deionized water), disodium laureth sulfosuccinate, cocamidopropyl betaine, PEG 150, pentaerythrityl tetrastearate, aloe barbadensis leaf juice, althaea extract (marshmallow), hedera helix (ivy) extract, anacyclus pyrethrum (pellitory) root extract, cucumis sativus (cucumber fruit) extract, sambucus nigra (elder flower) extract, arnica montanta flower extract, *propylene glycol, benzyl alcohol, potassium sorbate, tocopherol (vitamin E), glycerin, maltodextrin citric acid, tetrasodium EDTA,  phenoxyethanol and caprylyl glycol (Optiphen natural preservative®), essential oils and/or phthalate free fragrance
*a renewable, biobased propylene glycol that meets United States Pharmacopeia (USP) and USDA certified biobased product label standards
all custom sales are final
View product